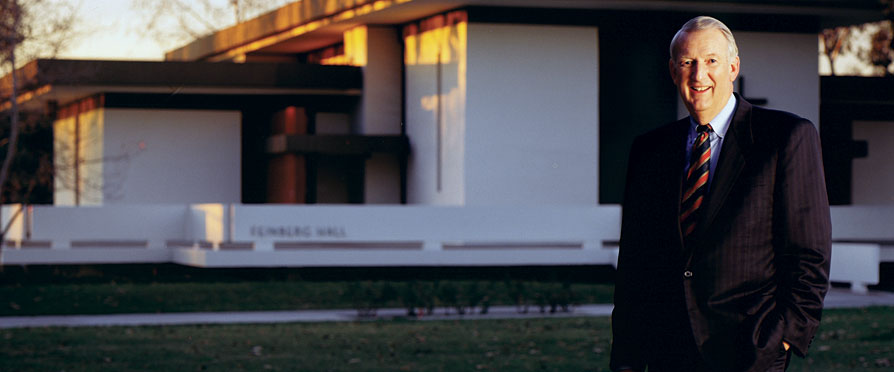 President Emeritus Clyde Cook's Legacy
Progressive Evangelicalism
Cook's mainstreaming of missions led Biola to new ways of influencing the culture. The film program, for example -- known as one of the nation's top Christian film programs -- has produced graduates like Scott Derrickson ('89, '90), the co-writer and director of the successful, spiritually themed Exorcism of Emily Rose (Sony Pictures, 2005).
The Torrey Honors Institute, an honors program for undergraduate students, was started in 1996. Phillip Johnson -- a retired University of California, Berkeley, law professor and the father of the Intelligent Design movement -- said: "The students enrolled in the Torrey Honors Institute at Biola University are getting a better education than the students at Harvard and Yale."
The Master of Arts in Philosophy of Religion and Ethics Program is viewed widely as the leading one of its kind, and it boasts more than 100 graduates in top Ph.D. programs for philosophy, including the University of Notre Dame. Biola's faculty includes "very powerful philosophers," Alvin Plantinga told Biola Magazine. Plantinga is perhaps the most influential Christian philosopher alive.
The growing reputations of programs like these has caused major media outlets to seek Biola for an evangelical perspective, including, in recent years, The New York Times Magazine, ABC News' Nightline and the BBC.
These programs have also contributed to several years of record enrollments at Biola.