President Emeritus Clyde Cook's Legacy
Challenges
Cook became president in 1982, a year after Biola transitioned from a college to a university. At that time, Biola was facing serious challenges. It had just entered a decade of declining enrollment and dwindling finances. Department funds were being slashed, and staff and faculty salaries were frozen. Discouragement set in across campus.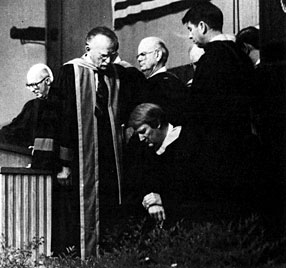 "That whole decade, Dr. Cook was very challenged because Biola is such a tuition-driven school," said Dr. Harold Dollar, who joined the School of Intercultural Studies in 1983. "But he never stumbled or lost any confidence."
Most universities saw sharp declines in enrollment in the 1980s, after the number of Baby Boomers peaked. Biola's enrollment dropped from 3,181 in 1980 to 2,566 in 1989 -- 615 students. On top of that, the year before Cook took over, the University received about 20 percent less donations than it had planned for; yet, it adopted a 17 percent higher budget, creating about a 37 percent shortfall. Cook had to quickly cut $1.3 million.
Meanwhile, as the president of any new university will know, people clamored around Cook for their causes -- some hoping to change Biola's direction. In an interview months before his retirement, Cook recalled one man who told him, "Clyde, you need to bring Biola back to its founders. You need to teach a 24-hour, seven consecutive-days creation, and if you don't, then you don't believe in the Word of God."
Cook disagreed and informed the man that some of Biola's first professors, including James Orr -- who contributed to The Fundamentals (a classic defense of the Christian faith) -- taught the day-age view, a theory that the days of creation in Genesis weren't literal, 24-hour days, but ages. Historically, Biola hasn't taken a stance on the earth's age, focusing on God as the Creator rather than on how He carried out creation. The statement of faith, however, rules out evolution.
"Everybody has their agenda for Biola," Cook told Biola Magazine. "People are telling me all the time how I should run this place."
To withstand the pressures, Cook often quoted a maxim by Herbert Swope, the first Pulitzer Prize-winning reporter: "I cannot give you the formula for success, but I can give you the formula for failure: try to please everybody."
Underneath the Swope maxim -- which Cook made into a placard for his office -- he added Jesus' words: "For I always do those things that please Him."
"That has to be foremost, my pleasing Him," Cook said, a personal conviction that won the admiration of staff and faculty.
"Dr. Cook is really a man of the Lord. That came out early in his presidency," said Dr. Ed Thurber, who has served as a math professor at Biola since 1971. "There was no doubt about how he loved the Lord and how that was central to everything."
Cook also faced an unforeseen obstacle two years into his presidency. At age 49, he had a major heart attack, a type so serious that it's called "the widowmaker" -- 100 percent blockage of his heart's left main artery. Cook remained in critical condition for five days and was hospitalized for 24. Many people feared that his term as president would be cut short.
But Cook recovered and became Biola's longest-serving president and one of the most beloved. He also became one of the longest-serving university presidents in the nation in a career where the average tenure is seven years at a private school and five years at a public one, according to the American Council on Education.
"Clyde Cook persevered and was a steady hand through those difficult years," said Wes Willmer, the vice president of university advancement.
Yet, perseverance was nothing new to Cook, who faced adversity at an early age.