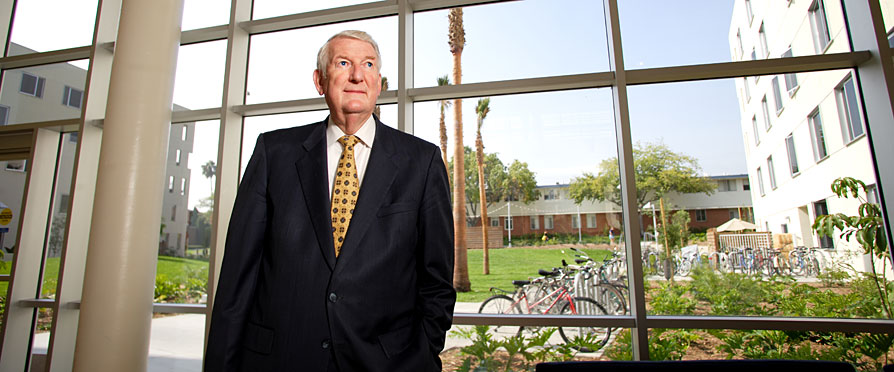 My Testimony
My great grandfather went to China as a missionary in 1848 with the American Presbyterians. Their daughter, my grandmother, was born in Canada and after graduating from college went back to China with the China Inland Mission as a missionary. While serving there she met an American Presbyterian missionary and they married and had my mother.
My mother's father died when she was six months old. Her mother stayed in China as a missionary and single parent, and my mother went through high school in China. She came to the United States to get her baccalaureate degree and then went on to Columbia University for her Master's degree.
Upon completion of her education in the United States she went back to China to join her mother in missionary work. After arriving in Shanghai she got on board a ship to take her up to Chefoo in northern China to join her mother.

One of the officers on the ship was my father, who was born in Scotland but had left home when he was 14 in order to support his mother because his father had died.

In World War I, he was captured by a famous German gunboat, The Raider Wolf, and was subsequently imprisoned in Germany until the end of the war. He was then assigned to the China Navigation Company sailing the coast of China. When my mother returned from the U. S. to join her mother in China, she sailed from Shanghai to Chefoo on my father's ship. My father invited her to the officer's table and they were married a year later.
My father was then transferred to Hong Kong and that is where I was born. I stayed in Hong Kong until the Japanese attacked Hong Kong on December 8, 1941. I remember at five minutes to eight in the morning the air raid siren going off and just a few minutes after the siren sounded we heard the sound of Japanese dive bombers coming over and bombing Hong Kong. Our house was located on the side of Hong Kong Island and there was an anti-aircraft battery below us and above us so the Japanese were trying to knock out these anti-aircraft batteries, so bombs were falling all around our house.

I remember as the bombs were falling my mother would gather us under the staircase and would read to us the Daily Light Scripture passages for that day and then we would sing "He Leadeth Me." I cannot sing "He Leadeth Me" even today without hearing the sound of falling bombs all around us, and feeling the house shudder.

After three days of intense bombing a British truck came to our house and said it was too dangerous and we must leave. My mother had just given birth to our youngest brother four months before, so we grabbed the baby and some clothes as we only had five minutes to get on the truck, which took us into town. The Japanese were not bombing downtown so we were relatively safe there.

When Hong Kong fell on December 25, 1941, we were told to remain in the place where we were staying with another missionary, and on New Year's Eve the Japanese gave their soldiers the day off.

That night several Japanese soldiers came to the house where we were staying, and in which we were also harboring a number of Chinese girls. The Japanese demanded that we send the girls out to them so they could rape them, but my mother and Mrs. Clift, in whose home we were staying, would not do it. We had an iron fence around the house and it was secured with a chain with a lock on it. For over an hour the Japanese shouted curses and pounded on the lock with a rock trying to get in.

I remember so clearly my mother and Mrs. Clift pushing a couch up against the door and then getting down on their knees behind the couch and praying that God would hold the lock. After an hour of pounding, the Japanese finally gave up and left, and the next morning when we went out we just touched the lock and it fell apart. It was as if an angel of the Lord put His hand around the lock and held it. This made an impression on me as a young boy, seeing the faith and courage of my mother.
We were then put in a concentration camp where we remained for six months. My mother was down to 90 pounds (40 kilos) and had dysentery and beriberi and would not have survived in the camp. However, because of the grace of God there was an exchange program with the Japanese diplomats who were trapped in the United States after Pearl Harbor and so the United States government worked out an arrangement with the Japanese government to release some of the Americans who were in concentration camps.

My father was away at sea when the Japanese attacked and my mother's mother and my two older brothers and sister were in northern China at a boarding school so we were in 3 different concentration camps.
When we were exchanged a Japanese ship took us from Hong Kong to Africa and we did not know whether my dad or my brothers and sister were dead or alive as there was no communication during the war.

When we arrived in Africa we were put on a Swedish ship to take us to the United States, but my mother knew if we went to the United States, if my father and other children were able to get out of their concentration camps, they would have to go to the United Kingdom as they were British.

My mother was American and my father Scottish, but they had passed a law between child three and four saying that citizenship could come through either parent. Before that time citizenship only came through the father, and so the first three children were British. However, the next three children had the choice of becoming either American or British because of the new law.
My mother realizing that if the rest of the family were released they would have to go to England and there were no visas being granted to the United States during the war and we would be separated for however long the war lasted.

So she asked the South African government if we could become refugees and she would go down to the Red Cross a couple times a week to see if there was any word from my dad. One day coming back from the Red Cross she met my father on the street as he was coming to the Red Cross to get any news of her.

Shortly after that my father was able to get my brothers and sister out of their concentration camp and after that my grandmother, so the whole family was reunited in South Africa. As soon as we were settled, my father joined General Douglas MacArthur in Australia. He served under MacArthur as the commander of a convoy of 15 ships that worked their way up towards Japan.

At the end of the war my father came back to South Africa and brought us over to the United States one at a time on the ship he was commanding. It was a freighter but he could take one passenger in his cabin. I spent a year in New York with a foster family before my mother, sister and my youngest brother were able to join me.
We then moved to Los Angeles because my dad was able to get a shipping job out of the west coast.
While in high school, I became a Christian. Even though I was raised in a Christian home, I did not have a personal relationship to the Lord Jesus Christ. It was at a summer camp (Forest Home) on August 10, 1950, that I realized I was a sinner and invited Him into my life and received both eternal and abundant life.
I finished my high school in Laguna Beach, California, and then was headed to the University of Southern California on a full basketball scholarship when the Lord spoke to me in a very special way about going to Biola University instead. A verse that He used in my life was I Peter 1:24:
For all flesh is as grass and all the glory of man like the flower of grass. The grass withereth and the flower fadeth away but the Word of the Lord endures forever.

I wanted to spend my time in something that endured forever.

I was named the Player of the Year for the Southern California schools so I had these many scholarships. When we won the championship game I remember going down the streets of my hometown and people would come out of the stores and say, "Way to go, Clyde, great season" and kept heaping me with praise.

However, two weeks later they had moved on to the baseball season and I saw how true that verse was in my own life. The glory of man withereth very quickly just like a flower, but the Word of the Lord endures forever, and I wanted to spend my life doing something that lasted forever.
The Lord then led me to Biola University where I met my dear wife, Anna Belle. After getting my baccalaureate there I went on to receive a Master of Divinity and a Master of Theology degree at Talbot School of Theology.
We then went out with Overseas Crusades to the Philippines as missionaries, and then we came back and spent 12 years teaching intercultural studies and missions at Biola University and Talbot Theological Seminary.

After 12 years of teaching I accepted the presidency of Overseas Crusades, now called OC International, succeeding Luis Palau who had been the president. Anna Belle and I moved to northern California and spent 3-1/2 years as the president of OC International, and then we were invited back to be the president of Biola University, as Dr. J. Richard Chase who had been the president at Biola, was called to be the president of Wheaton College.

This was an amazing appointment as here was a missionary winding up as the president of a prestigious university. Truly this was God's doing and I am in my 23rd year serving as president of Biola.