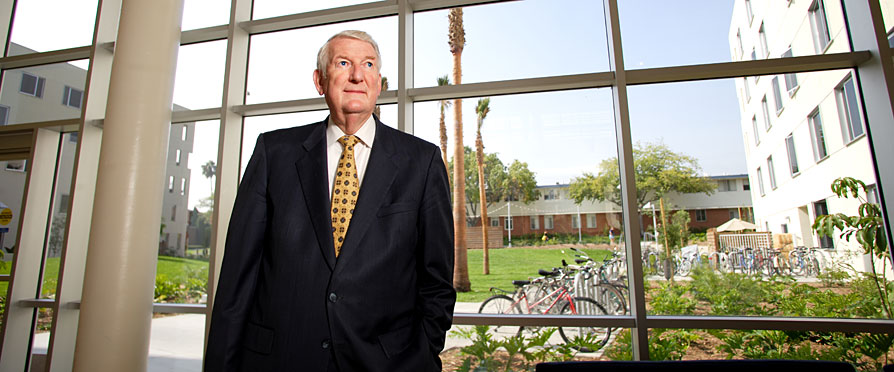 Lessons in Leadership
Chapter 12: Learning from the Lessons of Others
Clyde Cook has been president of Biola University since 1982. Not only is Clyde an educator and administrator, but he is also a fourth-generation missionary. From 1963-1967 he and his wife served in the Philippines. He returned there for six months in 1971 to help establish theological education by extension programs. Additional leadership roles include the presidency of O.C. Ministries and trusteeships for Biola University, the Christian College Coalition (including one year as its chair), and the American Association of Independent Colleges and Universities (an organization for which he also served as president for two years).
Dear Friend,
In over eighteen years as CEO, I have learned a number of important lessons. Some of these were told to me and others I discovered the hard way.
The first lesson was learned early in my tenure, at a conference for new college presidents sponsored by the American Council of Education and the Association of Governing Boards. One of the speakers was Donald Walker, and he exhorted us as new presidents to be like a person in a snake pit. He said we should "keep moving but don't make any sudden, jerky movement."
As I reflected on my years as a president, I would say that his advice is excellent, not just for new presidents, but for any president. The people in the organization need to sense that you are providing leadership and direction and that the organization is moving ahead. However, particularly in academic institutions, they don't like sudden, jerky movements. I have found that faculty and staff appreciate consistency and are unhappy with surprises.
The second lesson that I learned was that I am the temporary office holder of the presidency of Biola University. It would be easy to become enamored with myself and feel that I am "Mr. Biola," and that the whole organization revolves around me. This is a deadly perception, as the organization can function quite well without me. There have been other presidents before me, and there will be other presidents after me until the Lord returns, so it behooves me to hold the office lightly and realize that it is temporary.
The third lesion that has stood me in good stead is realizing that this is God's appointment. I never had any aspirations to be the president. There are only thirty-two hundred of us in the United States, and it is difficult to declare oneself a candidate for the office and try to map out a career path to the presidency. In fact, by doing so it might assure one's quick removal from the list!
I look back and realize that being chosen for this position had nothing to do with my talents or gifts. It was the sovereignty of God. This realization liberated me, as I knew that He appointed me and I would serve Biola as long as He wanted me to serve.
Of course, this doesn't mean that I just sit in my office meditating on the sovereignty of God. He expects me to work and to work hard, and the demands of the office require a great deal of energy, wisdom, and commitment. But I realize it is because of the grace of God that I am there, and knowing this is both liberating and assuring.
The fourth lesson I'd like to share with you includes some thoughts on leadership that have helped me tremendously. In fact, I have them on little cards that stand up on my office shelves so I am reminded of them regularly.
The thought that I perhaps use the most comes from Herbert Bayard Swope: "I cannot give you the formula for success, but I can give you the formula for failure, which is: try to please everybody."
Only the president has a 360 degree responsibility for the organization. Everyone else has a slice of it, but the president has the whole. So every decision I make as president has perceived negative consequences for some part of the organization.
So as presidents we must realize that we cannot please everybody; after you have been in the office for a while, you will have offended almost every department as some decision you have made for the good of the whole is perceived negatively by a particular part of the organization. Since you cannot please everybody, it is futile to try to do so.
Under Swope's quote I have added a word from out Lord: "For I do always those things that please Him." I have to keep in mind that every decision I make and every action I take should be done to please the One who is really in charge of Biola University, our Lord Jesus Christ.
I have also leaned a great deal from Peter Drucker and his insightful works. Here is a statement of his that I also keep in my office: "Results are obtained by exploring opportunities, not by solving problems."
Solving problems just brings you back to neutral. As a president, I have to be careful that I am not spending all my time just solving problems, because if I am, I will miss the wonderful opportunities that God continually gives us.
David Alexander, president of Pomona College, echoes this same theme when he says: "It's the president's job to see that current problems don't completely obliterate future planning. That's one of the tasks of anybody in charge of an organization."
What both Alexander and Drucker are reminding us is that we are not just managers but leaders, and we have to provide the leadership necessary for the college or university to accomplish its mission. This leadership demands exploiting opportunities, not just concentrating on problems.
There is much more that could share, but I trust these central thoughts might be of help to you.
Sincerely,
Clyde Cook
---
Lessons in Leadership: Fifty Respected Evangelical Leaders Share Their Wisdom on Ministry
Chapter 12: Learning from the Lessons of Others
Dr. Clyde Cook was among the fifty respected evangelical leaders to contribute to this 1998 publication, "Lessons in Leadership: Fifty Respected Evangelical Leaders Share Their Wisdom on Ministry." Other contributors included Bill Bright, Ted Engstrom, Walter C. Kaiser, Jr., and Jill Briscoe.
Chapter 12, titled, "Learning from the Lessons of Others" was written by Cook who shares his story and wisdom of his many years of leadership at Biola University.
"Taken from Lessons in Leadership: Fifty Respected Evangelical Leaders Share Their Wisdom on Ministry © 1998 by Randal Roberts. Published by Kregel Publications, Grand Rapids, MI. Used by permission of the publisher. All rights reserved."